New game! Puzzle fun with pigs flying through the sky and clouds
Android – https://play.google.com/store/apps/details?id=com.RandyAndTeddy.PigsAndParachutes
iOs – https://apps.apple.com/app/id1558236884
Released – March 2021
Experience easy-to-play one tap controls as you fall through the sky and clouds while you try to collect mission symbols. Watch out! You have a parachute with you but to open it you need to collect all symbols. Fly, rotate and try to solve the puzzle and extend your game. Have fun clearing out collectables with lots of unpredictable twists in this logical and puzzle solving funny pig game.
Enter a puzzle solving game with hilarious pig characters, full of interesting various characters and locations with lively graphics.
Take your fall through the clouds with hilarious pig characters like PINKY PIG, BLUE PIG, YELLOW PIG, CHROME PIG as well as special pig characters DENIM PIG, SWEATER PIG, DOLL PIG, CAMO PIG, ORANGE PIG, WILD PIG, and limited LIZZARD PIG, ANIMAL PIG, TIGER PIG, FLOWER PIG, MATRIX PIG, ZEBRA PIG—you name it, WE GOT YOUR PIG! Also, we made sure to have the most colorful and vivid graphics to ensure you have a great experience playing the best and funniest pig puzzle fun free game.
Ready to test your skills? Then jump with a parachute into this fun new puzzle solving game along with great pig characters.
Take your little Piggy on a fun solving puzzle adventure through the sky in this addictive one tap puzzle solving game.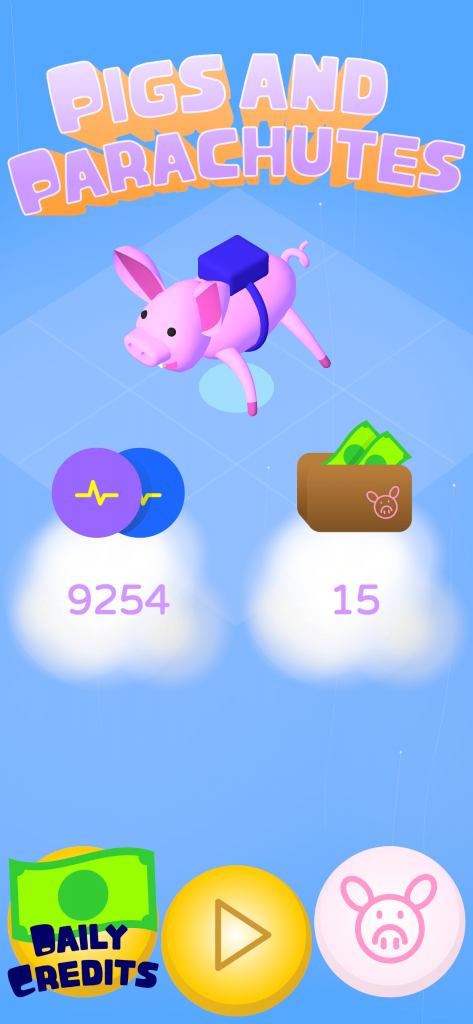 Features
Play through this amazing PIG fun adventure to unlock new sky AMBIENTS.
Awesome graphics and endless fun ONE-TAP game.
Solve PUZZLES while you fall through the sky in vivid and colorful ambients.
Take your favorite Piggy on an adventure and choose from over 10 PIG CHARACTERS.
Collect geometrical shapes and solve PUZZLES to level up.
Open daily prizes for exclusive rewards and exciting pickups for free.
Solve PUZZLE to earn new collectables!
Collect TRIANGLE, CIRCLE and SQUARE throughout this amazing piggy adventure.
FREE updates and new content added regularly.
Fruits and veggies, burgers or smileys!
Collect credits to open puzzles. Solved puzzles will give you new collectable items. These include Fruits and Veggies, Burgers and Ice Creams and Smileys. Each puzzle is harder to solve as it requires more credits. To select which collectables are in the game go to your profile. The four buttons with lock icon represent them, and one a puzzle is solved these will open.
How to play?
Pigs only roll a side! This means that you can go either left or right by touching your phone screen bottom left or right corner. When the pig rolls a side, the air resistance makes it move one field to the back too. At first it might seem tricky, but if you handle it well you'll be able to complete the game. There are 9 fields where a pig can be. While falling, these fields will have collectable symbols or clouds or they can be empty. Avoid the clouds, as they will reduce energy and collect symbols in a combo pattern shown at the top. The symbols must be collected in order asked on top of the screen.
If the correct symbol is picked, the combo at the top will be lit letting you know. Once a combo is completed a credit for that combo will appear in the central field. Make sure you collect it! All credits that are collected don't reappear in the level, so it's important to keep moving!
At first you only collect 3 symbols, but as you progress up to 7 different ones will appear!
The pig profile
Interesting part of the game is the profile. Here you can use the earned credits to make the game just the way you like it. Use pig skins, backpacks and ambients to make the game more the way "you like it".
In the profile you can also switch collectable symbols. Once puzzles are solved, you can receive Fruits and Veggies, Burgers and Ice Creams and Smileys symbols to collect. When you select one of these, the default geometrical shapes will be replaced. Cool!
Thanks for playing!
Randy and Teddy
If you liked our "Pigs and Parachutes" game take a look at this great review that we have received from our players.